Southeast Wyoming may have one of the most varied climates, as it is subject to air masses from Canada, the Pacific, Mexico, and the Gulf of Mexico. The weather can change suddenly and the area is actually one of the most difficult areas in the world to forecast.
Thunderstorm and Hail History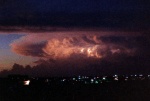 Laramie County in southeast Wyoming on average experiences about 50 thunderstorm days per year.

January, February and November and December typically do not have any thunderstorm activity. Activity slowly increases beginning in March with an average of 0.2 thunderstorm days. Beginning in April, thunderstorm activity climbs to 2.1 thunderstorm days, May sees 7.6, June 11.2, and peaks in July with 13.4 thunderstorm days. Acitivity then begins decreasing with August having 11.4, September 4.7, and then drops below 1 thunderstorm day in October.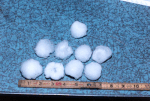 Severe hail which is 1 inch or larger occur about 29 times a year across the state with by far the greatest frequency occurring over the extreme southeast part of the state (Laramie County). Between 1950 and 2001 more than $13.9M in property and $1.26M in crop damage was reported, while nine people were injured. Smaller, less damaging hail occurs two to four times as frequently, and usually happens for a few minutes at the start of intense thunderstorms.

Three of the five costliest hail storms have occurred in Southeast Wyoming.
Top Five Wyoming Hailstorms

1 Cheyenne 1985 $43.6 million

2 Cheyenne 1987 $36.0 million

3 Casper 1986 $29.0 million

4 Gillette 1993 $17.0 million

5 Cheyenne 1979 $16.5 million

Tornadoes produce the highest wind speeds on earth, as high as 319 mph. Southeast Wyoming lies west of "tornado alley" and the frequency and intensity of tornadoes are greatly diminished in comparison. Wyoming overall ranks 25th in the number of annual tornadoes, 10. Tornado statistics for the area, especially prior to the 1970s are mostly incomplete because many tornadoes have happened without being witnessed.

Annual tornado statistics vary greatly across Wyoming. In recent years, 42 tornadoes were counted in 1979 while no tornadoes were reported in 1951 and 1970. Of the 545 confirmed tornadoes recorded (1950-2003), Laramie County in Southeast Wyoming had the most with 90 while Teton County recorded only one. Although Laramie County has the largest population and, thus, the opportunity to see more tornadoes, the fact that extreme southeast Wyoming is relatively close to "tornado alley" and experiences higher moisture influx contributes to the higher numbers. The average length of a tornado in Wyoming is 3.05 miles with an average width of 79 yards. On average there are six tornado days per year. However, many tornadoes have no recorded path length or width, are not evenly distributed across the state, and go unreported.

Between 1950-2005, 97 people have been injured in tornadoes in Wyoming. Some noted tornadoes across Wyoming

MAY 18, 1907 1:45 pm 0 dead 6 injured
Six men were injured as a small house was destroyed on a sheep ranch in Converse County.

MAY 31, 1923 3:45 pm 1 dead 2 injured A small homestead shack was destroyed near Lariat in the southeast corner of Sheridan County.

JUN 15, 1926 3:30 pm 0 dead 26 injured The erratic looping path of this tornado hit one farmhouse twice, west of Torrington, Goshen County.

JUN 25, 1942 7:00 pm 2 dead 4 injured Two field workers were killed in their home near Wheatland, Platte County.

JUN 27, 1955 12:10 pm 0 dead 3 injured A tornado destroyed all buildings on a farm south of Wheatland, Platte County.

JUN 26, 1959 3:00 pm 1 dead 0 injured A man was killed when a tornado uprooted a tree, which crushed his pickup truck in Bighorn County.

JUL 16, 1979 3:25 pm 1 dead 40 injured A tornado hit 500 homes in an eight-mile-long path across the northern part of the Cheyenne.

JUN 5, 1982 7:35 pm 0 dead 3 injured In Niobrara County, at Lance Creek, a barn and mobile home were destroyed.

AUG 12, 2005 4:22 pm 2 dead 13 injured At about 4:22 PM,, an F2 tornado ripped apart the Cottonwood Mobile Home Park at Wright, Campbell County, Wyoming. Two people were killed and 13 were hospitalized as forty mobile homes were destroyed. A few frame homes were unroofed. This is only the second time in history that a Wyoming tornado caused as many as two fatalities.

Killer Tornadoes



The only recent killer tornadoes occurred on 12 August 2005 when an F2 tornado hit the small community of Wright resulting in 2 fatalities, 13 injuries, 40-50 mobile homes destroyed with a damage path up to 0.25 mile wide and in Cheyenne on 16 July 1979 (killed one person).

The Cheyenne tornado event resulted in 1 fatality, 40 injuries, and $25 million in damage. There was damange to Four C-130 aircraft at the Cheyenne municipal airport, 140 houses were destroyed, 325 damaged, and 17 trailers destroyed. The tornado was on the ground for approximately 45 minutes, unusual by any tornado standard.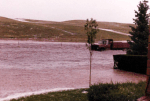 On August 1, 1985, a nearly stationary severe thunderstorm produced the most damaging flash flood on record for Cheyenne and the state of Wyoming. Twelve people lost their lives, 70 more were injured, and the damage to homes, cars, and businesses was estimated at $65M.

The NWS Forecast Office at the Cheyenne municipal airport recoreded 6.06 inches of rain in just over 3 hours between 7PM and 10PM. Elsewhere in and around Cheyenne rainfall from the storm totaled between 2 to 6 inches.

Around 7PM cars and trucks were reported floating down Dry Creek in northwest Cheyenne. By 7:30PM, in addition to blinding rain, hail up to two inches in diameter and winds up to 70 mph were occurring in the Cheyenne area. The hail was piled up 4 to 8 feet deep by flood waters in some parts of Cheyenne.

Flood waters in the city were at their apex from 7PM to 10PM, Dry Creek became a raging torrent throughout northern Cheyenne. 10 to 12 deaths occurred along Dry Creek when people were swept away in their cars as they tried to cross flooded streets.

Flood Map of Rainfall amounts and water flow rates.